NCERT Class 11 Geography Chapter 5 Natural Vegetation Notes Solution For School Students of Class 11th. We also Provides Notes and Important Questions for Class 11 Geography. NCERT Class 11th Geography book is applied in mostly boards like CBSE, HBSE, RBSE, Up Board, MP Board and also some other state boards.
Also Read:- Class 11 Geography India Physical Environment NCERT Solution
NCERT Class 11 Geography india physical environment Chapter 5 Natural Vegetation Notes for CBSE, HBSE and Other Boards Solution.
Natural Vegetation Class 11 Geography Notes
---
Natural Vegetation
Biggest Planting group – 1st Sal, 2nd Teak and 3rd Rosewood (Sesum)
Maximum forest cover –  According to Area :- 1st Madhya Pradesh, 2nd Arunachal Pradesh. According to percentage :- 1st Arunachal Pradesh and 2nd Mizoram
Least Forest cover – Haryana
According to union territories :- Maximum in Andaman and Nicobar.
World's maximum forest cover :- South America Continent ( in area) and Pepva Newgini ( by ratio 98%)
Bio deserve plant :- Neem
Plant having maximum age :- Banyan tree
Total National Parks in India :- 103
Total Wildlife Sanctuaries in India :- 535
Natural Vegetation :- It refers to a plant community that has been left undisturbed over a long time.
Types of Forests :- Forests are basically 5 types.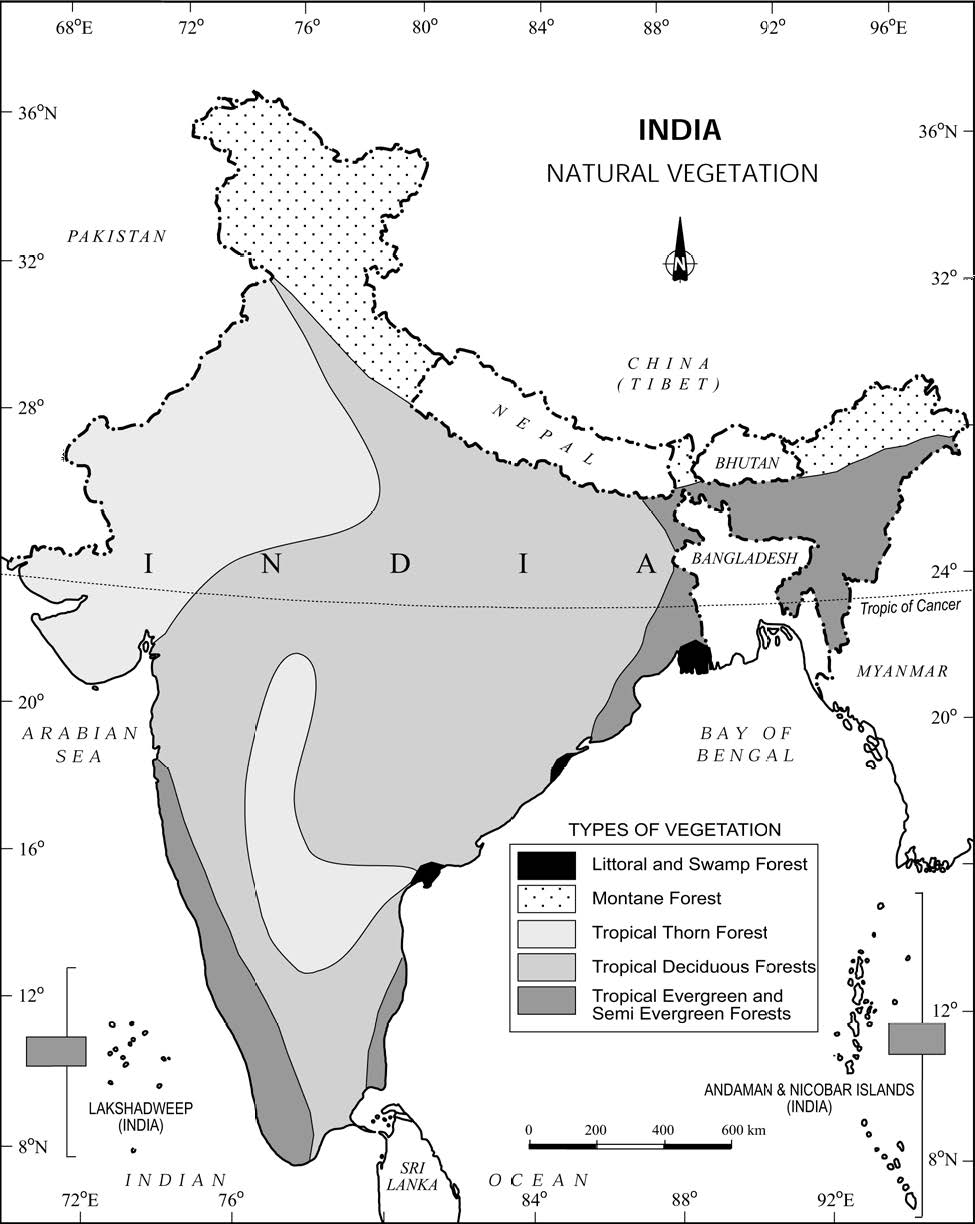 1. Tropical Evergreen and Semi Evergreen Forests:-
| | | |
| --- | --- | --- |
| S.No. | Context | Tropical Evergreen Forests |
| 1 | Rainfall | 220 cm and above |
| 2 | Temperature | 22°C ↑ |
| 3 | Area | Found in western slope, Northeastern region and Andaman and Nicobar |
| 4 | Species | Rosewood, Mahogany, ebony etc. |
| 5 | Height | 60 m ↑ |
| 6 | Time to shed their lives | No definite time |
Semi Evergreen Forests :- Found in less rainy areas, Mixture of evergreen and moist deciduous trees and main species of this forests are Kail, wnite cedar etc.  Note:- The Oak forests in Garhwal and Kumaon were replaced by pine (chirs) which was needed to lay railway lines.
Tropical Decidiuouds forests :- Monsoon Forests
Rainfall :- Between 70-200 cm
Moist Deciduous forests-
Rainfall :- 100-200cm
Area :- Northeastern states, Western Ghats
Species :- Teak, Sal, Shisham, Sandalwood etc.
Dry Deciduous Forests :-
Rainfall – 70-100 cm,
Area – Parts of Peninsula, UP, Bihar,
Species – Tendu, Bel, Axehwood etc.,
Time to shed leaves – During dry season.
3. Tropical Thorn Forests 
Rainfall – less than 50 cm
Species – Haryana, Punjab, Gujarat, Rajasthan, MP, Up etc.
Time to shed leaves – Remain leafless for most part of year.
These forests are basically Arid ( less than 25 cm) and Semi Arid (25-50 cm). Note – Tussocky grass grow upto a height of 2 m as the under growth.
4. Montane Forests :- These are basically Northern Mountain Forests and Southern Mountain Forests.
Northern Mountain forests :-
– Deciduous forests are found in the foothills of Himalaya.
– Height ranges between 1000-4000 m.
Species :- Deodar, Blue pine ( 2225-3048m), Alpine, Silver Furs ( 3000-4000 m).
Southern Mountain Forests:-
Area :- Western Ghats, Kerala, Tamil Nadu, Karnataka.
Species :- Wattle, Nilgiris etc.
Height :- 1500 m above the sea level.
5. Littoral and Swamp Forests:- Mangrove forests
Area covered :- 6740 sq. Km (7% of world's mangrove forests)
Area :- Found in Andaman and Nicobar Islands, West Bengal.
– Need conservation.
Forest Cover In India :-
Forest area :- 23.28% of total land area
Actual Forest area:- 21.05%
Lakshadweep :- 0% forest cover
Andaman Nicobar Islands :- 86.93% forest cover.
States with less than 10% forest area  :- Rajasthan, Gujarat, Delhi, Punjab, Haryana etc.
States with 10-20% forest area :- Tamil Nadu, West Bengal.
States with 20-30% forest area :- In Peninsular Plateau excluding Tamil Nadu, Dadra and Nagar Haveli, Goa.
States with more than 30% forest area:- Northeastern states.
Forest Conservation :-
– Indian Government adopted a forest policy in 1952, which was further modified in 1988.
– The Forest Policy aimed at : -Bringing 33% of total area under forest cover, Maintaining environment stability, Checks soil erosion, Conserving the natural heritage of country.
Based on the forest conservation policy the following steps were initiated as:-
– Social Forestry :- National Commission on Agriculture 1976 has classified social forestry into 3 types as Urban forestry, Rural Forestry and Farm Forestry. Social forestry means the management and protection of forests and afforestation on barren lands. Urban Forestry pertains management of trees on public and privately owned lands. Rural Forestry emphasis on promotion of agro-forestry and community forestry. Farm Forestry is a term applied to the process under which farmers grow trees for commercial and non-commercial purposes on their lands.
Wildlife :-
About 4-5% of all known plant and animal species on the earth found in India.
Reason for declining of wildlife:- Incidence of forest fire, Grazing of domestic cattle, Hunting , Industrial and technological advancement.
Wildlife Conservation in India:-
In 1972, a comprehensive wildlife act was enacted, which provides the main legal framework for conservation and protection of wildlife in India.
Project Tiger – 1973
Project Elephant – 1992
Biosphere Reserve :- It is a unique and representative ecosystem of terrestrial and coastal areas which are internationally recognise within the framework of UNESCO's Man and Biosphere (MAB) Programme.
Nilgiri Biosphere Reserve  (1986) :- The Nilgiri Biosphere Reserve , The first of fourteen biosphere reserves of India.
Area :- 5520 sq.Km
Region :- Tamil Nadu, Kerala and Karnataka.
Nanda Devi Biosphere Reserve 1988 :-
Area :- 5860  sq.Km
Region :- Uttarakhand
Has rich Fauna.
Sunderbans Biosphere Reserve 1989 :-
Area – 9630 sq.Km
Region – West Bengal
Sunderban is the home of nearly 200 Royal Bengal Tigers.
Gulf of Mannar Biosphere Reserve 1989 :-
Area – 1,05,000 Hectares.
Region – Tamil Nadu.