Class 6 Geography Our Country – India chapter 7 notes NCERT Solution in Hindi. NCERT Class 6 Geography Notes, Textual Question Answer and Important Question Answer also Available for Various Board Students like HBSE, CBSE, UP board, Mp Board, RBSE and some other State Boards.
Also Read:- Class 6 Geography NCERT Solution
NCERT Solution for Class 6 Geography Chapter 7 Our Country – India Notes for students.
Our Country – India Class 6 Geography Chapter 7 Notes
1. Geographical Location :-
total area : 3.28 million sq. Km.
North South extent : 3,214 Km from Kashmir to Kanyakumari.
East-West extent : 2,933 Km from Arunachal Pradesh to Kachchh.
India is second most populous country of the world according to census of 2011.
2. Locational Setting
– India is located in the northern hemisphere.
– From south to north India extends between 8°4'N to 37°6'N Latitudes.
– From west to east India extends between 68°7'E to 97°25'E Longitudes.
– The Tropic of Cancer (23°30'N) passes almost halfway through India. It passes through eight states of India.
– The Standard Meridian of India is 82°30'E.
– There is a time gap two hours between Arunachal Pradesh and Gujarat. The Sun rises two hours earlier in east ( Arunachal Pradesh)  than west (Gujarat ).
3. Neighboring Countries
– There are seven countries that share their land  boundaries with India. These are China, Pakistan, Afghanistan, Nepal, Bhutan, Bangladesh and Myanmar. While Sri Lanka makes water boundary with India and is separated by Palk Strait from India.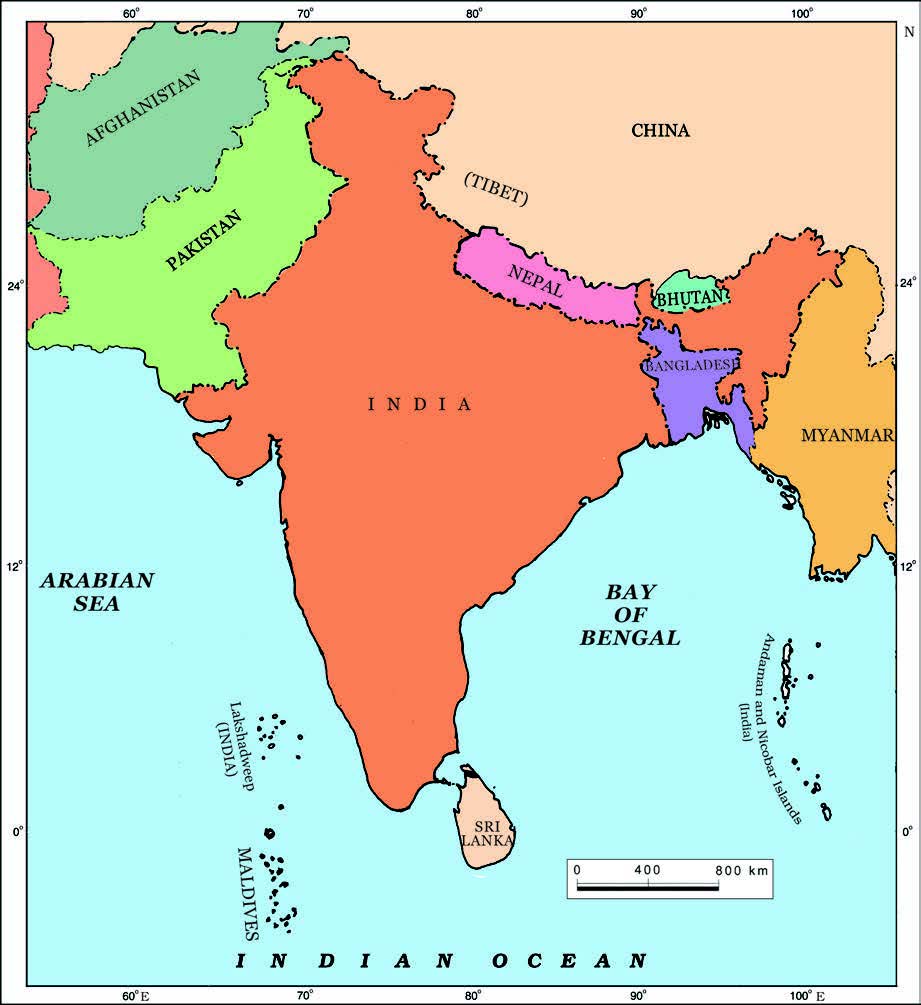 4. Political and Administrative Division
– India is divided into 28 states and 8 Union territories (in 2022).
– New Delhi is the capital of India.
– Rajasthan is largest and Goa is the smallest state of India in terms of area. While in terms of Population Uttar Pradesh is the largest and Mizoram is the smallest state of India.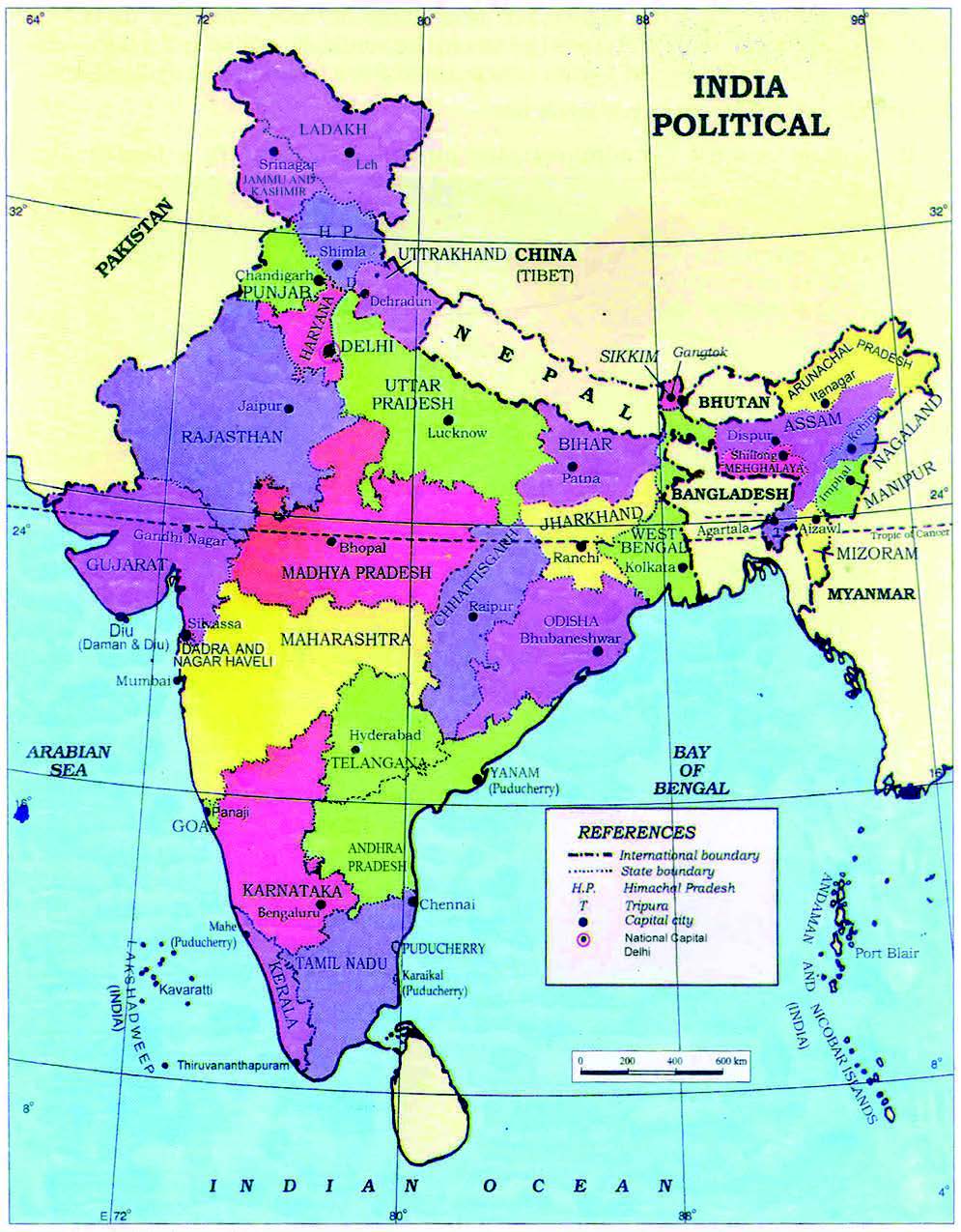 5. Physical Division
– India is marked by a diversity of physical features such as mountains, Plateaus, plains, coasts and islands.
– Himalayas is the major mountain range. It is divided into three main parallel ranges.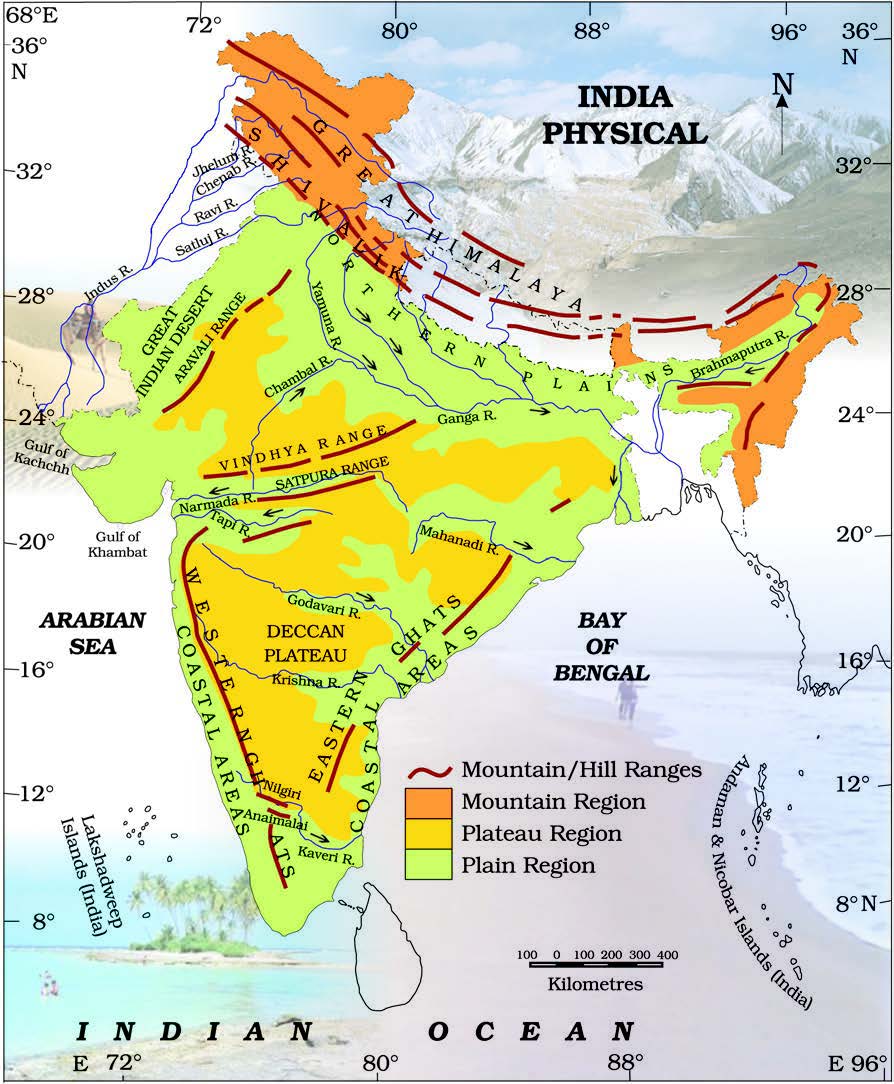 (i) The northernmost is The Great Himalaya or Himadri. The world's highest peak Mount Everest is located in this range.
(ii) Middle Himalaya or Himachal- It is the south of Himadri. Popular hill stations like Manali, Kullu, Rohtang, Kufri and Kasauli lies in this range.
(iii) Shiwalik – It is the southernmost Himalayas.
The Northern Indian Plains :- It lies in the south of Himalayas. These plains are formed by the alluvial deposits laid down by the rivers- the Indus, the Ganga, the Brahmaputra and their tributaries.
– The Great Indian desert- It is also known as Thar desert. It is a dry, hot and sandy stretch of land.
Aravali hills are the oldest ranges of the world.
-Narmada and Tapi:- These are the west flowing rivers flowing through Vindhyas and Satpuras. These rivers ended in Arabian Sea.
The Western Ghats are also known as Sahyadris.
– Eastern Flowing rivers :- The rivers Mahanadi, Godavari, Krishna and kaveri are eastern flowing rivers drain into Bay of Bengal. The Sunderban delta is world's largest delta formed by the rivers -the Ganga and the Brahmaputra.
-> Islands:- There are two groups of islands in India.
First one is Lakshadweep islands located in Arabian Sea. These are coral islands located off the coast of Kerala.
Second one is the Andaman and Nicobar Islands located in Bay of Bengal. On Dec, 2004 a massive tsunami came in Bay of Bengal in Indian ocean.